PromoAffiliates Munchery Ambassador Program Pays Social Influencers for Content
By Sean Turtle, COO PromoAffiliates  – February 23, 2017 — 11:30 AM PDT
Learn how to make thousands with the PromoAffiliates Munchery ambassador program.  It's as simple as using your site or social media to promote your Munchery promo code.  Contact Aaron@promoaffiliates.com to sign up with us and get your unique Munchery promo code.  We are working with some of the best brands and apps ! All of our affiliate and CPA programs give new users a free trial or discount on their first time.  We pay you for every new customer that tries the service.  Every new customer who uses your Munchery promo code is called an activation.  We pay monthly for your total number of activations.  
So if you are a popular YouTube influencer for example, you can easily get your audience to try this and other apps.  One compelling video can lead to Munchery is growing into new cities.  This expansion is great for members of our Munchery ambassador program.  
This post will detail everything you need to know about joining our program and how it works.  There will also be information about our company, the culture of Munchery and on demand apps. I will cover some of the news articles about Munchery. It's really simple to add this and our campaigns to your roster.  If you are a social media Influencer,  you will learn how to leverage your audience across all platforms.
Major Points of Post
Who is PromoAffiliates
What is Munchery
How the Munchery Promo Code Works
Munchery Press
Benefits of Munchery
Demographics of Munchery
Munchery Competition
Munchery in the Future
PromoAffiliates Announces the Munchery Ambassador Program
CPA deals and affiliate programs have been the expertise of PromoAffiliates, a Los Angeles based agency for new apps and brands.  It is proven that PromoAffiliates has brought the rideshare giant Uber over 500,000 new users in the last three years!  Many digital marketing efforts were employed.  One important marketing basic is generation of word of mouth.  The Munchery ambassador program is not using a new tactics really.  A new customer can try the service with a Munchery promo code and get a discount on their first time.  So all we do at PromoAffiliates is get the word out to the masses about these opportunities.  We are looking to partner directly with social influencers for these campaigns.  
Our influencers have found success especially when the promotion is relevant to the lifestyle of the influencer.  Things like rideshare and food delivery can fit into the lifestyle of just about anybody.  One extreme example is of Tana Mongeau and the promotion of her Uber promo code linked below.  Obviously, we aren't typically going to bash the client but in this case, it worked to her benefit.  Tana was able to generate thousands of activations of her Uber promo code.  I can work directly with you to formulate video ideas.  
What is Munchery?  
In such a saturated industry, Munchery stands out because it's not just takeout delivery.  Munchery is fresh cooked meals from local chefs with delivery between certain hours.  Meal delivery from restaurants takes collaboration and a sophisticated platform.  Not that Munchery's platform isn't elaborate or anything.  So, we take it for granted but with our Munchery ambassador program, we are promoting the opportunity to try amazing food that someone can order and get delivered right to their door.  Munchery has a video on their site that explains the Munchery memberships.  It talks about the annual membership and other important information.  
The Munchery promo code doesn't just give people the chance to try prepared meals because there are also cooking kits.  With basic kitchen equipment and a short time to follow a recipe, the cooking kits from Munchery are all the ingredients you need for a great dinner for two!  It is really easy to get your audience to try the Munchery promo code if they can watch you doing it.  It's like an unboxing if you can make a YouTube video following your experience making your first order with Munchery and then enjoying the meal.  Also, you will be very familiar once you have gone through the order.  
Munchery is currently in about 40 cities and there is a lot of room for expansion.  When marketing for this campaign for our Munchery ambassador program, focus on the cities where the Munchery promo code will work.  The Munchery Blog has some interesting topics about the brand and it's menus in different cities.  Getting to people through delicious food can be a great way to get them to try the service.  Getting activations is your main goal anyway.  You want people to try the service and there will be more on this later.
The Munchery Promo Code and the Munchery Ambassador Program
This part of the post is the most simple and the most important.  Always double check this step no matter what program you are working with.  If you don't know what the process is for new customers to try an app or something, you could miss out on hundreds of activations.  Don't just give out your code.  Show how to use the Munchery promo code exactly.  Members of our Munchery ambassador program use many tools.  These include screenshots, videos, and specific descriptions of the process to lay it out for people.  Computer savvy people won't care if there is a description available for others.  
The new user will need an email address or Facebook account to sign up for Munchery. Also, they will have to create an account and all that.  Encourage the potential new customer that it will be worth it to try your Munchery promo code.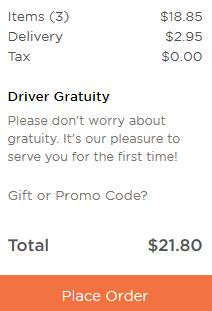 Munchery Promo Code
The best way to explain how to use the Munchery promo code is that it is to be used at checkout.  Pictured above, this is the second to last step when finishing an order.  Right before entering payment method, new users have a chance to enter a 'Gift or Promo Code' on the 'Place Order' screen on the app.  This will differ only slightly if the new user is ordering from their laptop or Ipad on the website.
Some people will back out of trying your Munchery promo code because they may want to see if it works but might not be ready to order at that moment.  Let your audience know that the code is for the last step when they are about to finish their first order.  Be up to date on the specifics of our Munchery ambassador program like what is the discount for the new users, how much you are paid per activations, etc.  Essentially, you have freedom to create whatever type of content you see fit.  It is recommended that you try some of the tactics that we have seen work in the past.
Munchery Referral VS Munchery Ambassador Program
Check out the picture above.  This is referencing Munchery rewards for Munchery customers.  This program changes but is currently a 20 for 20 deal.  When a Munchery customer refers a friend, they get $20 credit for their next order.  It doesn't usually roll over or can only be used within a calendar year but it is pretty cool.  This is very different from the PromoAffiliates Munchery ambassador program.  As an affiliate or ambassador with PromoAffiliates, we are paying you cash to promote our clients.  You are paid based on how many activations of your Munchery promo code you get.
Munchery in the News – Topics for the Munchery Ambassador Program
Some of the press you find may be good to recap and others should not be mentioned.  Here you will see specific examples of what press to mention when promoting for our Munchery ambassador program.  Remember that your goal is to get as many activations of your Munchery promo code as possible.  Mention the press and benefits that will get new users to input your code at checkout.
Inc.com's Lindsay Blakely, details how Munchery was able to take an American favorite and set up customers to warm it up at home to perfection.  This is great information for the social influencers in our Munchery ambassador program.  This article explains how the Munchery 'burger hack' became the number 1 seller in Los Angeles and then Seattle.  Influencers can play on trends like this and join the bandwagon and say how much they like the dish too. Big news get a lot of hits even if it isn't fresh.  You can address big news and ride the wave of it's depleting popularity.  
Big News on Munchery
Munchery had such a big series C round of funding at $85 million that mentioning it will be relevant for a long time.  According to an investor named Shervin Pishevar in a Medium.com article, most "investors tend to avoid food companies."  The difference with Munchery and similar platforms is the use of technology.  If you are joining our Munchery ambassador program as a blogger affiliate or a site owner, you can literally recap another news article and benefit from it's rank and popularity.  Similarly, if you are a social influencer, bring news to your audience.  Talking about articles will give you even more credibility with your audience.  

Not all news will be good, but press is press.  Being a member of our Munchery ambassador program, you may want to consider the type of new coverage you are recapping.  Sometimes, it won't matter because you are just trying to get people to try the service once.  But look at the link below as an example.  Here Munchery is having some internal trouble and having to appoint a new CEO.  In addition, there was some cutbacks in staff.  According to TechCrunch and Bloomberg, Munchery was forced to cut staff in addition to changing roles at the top with the founders.  This may not call a person to action which is the focus of our Munchery ambassador program.  We want to highlight the benefits of the app in order to attract new users.  
Munchery Affiliates Draw Attention to Munchery Benefits
Your Munchery promo code is just the gateway to all the benefits of Munchery.  This is the essence or core of the Munchery ambassador program.  As an ambassador, you make money for every new person who tries Munchery for the first time with your Munchery promo code.  They will be able to sign up for an affordable Munchery membership.  This can provide them with great meals that just need to be warmed up or meal packs that have easy to follow recipes. 
What's interesting is how much easier it is to order from a meal system that changes the meal options daily.  Ordering takeout from local restaurants is daunting.  It can seem overwhelming to choose from such a wide selection.  Munchery's daily changing menu narrows selection.  I witnessed this with a friend of mine recently when she was having trouble deciding what to order one day.  
Munchery is a Healthy Alternative to Take Out
Fit the top benefit to your other content and run with that.  If you are popular because of your YouTube pranks.  A simple prank on the delivery person would get the point across to your audience.  If you are a big Yogi on Instagram, you probably would want to use the healthy angle.  Munchery promotes fresh, healthy ingredients and this would be a great benefit for you to focus on as a Yogi.
Ordering in is formerly associated with bad or unhealthy food.  So, this is not the case any longer as people are actually getting fit by ordering healthy meals delivered right to their door.  Munchery is one of many companies that are offering this service.  You will see a few mentioned in the competition section below.  Highlight the benefits of Munchery when promoting for the Munchery ambassador program.  You are often the first that the potential customer has heard about the service.  You have the chance to make a great first impression!
Culture of Munchery – Who to Focus on With Our Munchery Ambassador Program
Platforms like Munchery can really save users more than just time.  If applied correctly to a strict budget, Munchery can actually save users money.  The costs of most of the meals are low enough that they can be delivered for less money that the ingredients for that meal alone would cost.  True, the bottom line for our Munchery ambassador program is new users activating your Munchery promo code.  But to get people to try the service, know that the culture appreciates a good price point.
Also, Munchery is popular due to the overall popularity of the on demand culture.  Different segments of the population have really latched on to the on demand culture of getting everything delivered at any time.  Although Munchery has requirements of when orders must be placed, it still fits into the on demand category.  As I'm going to mention in the next section, Munchery and it's competition are all about convenience.  Can you imagine how much time that users save by getting their food delivered and/or prepared?  Anytime a platform can help someone with their errands or liven up mundane points in life, it's a good thing.
Social Media Marketing – Munchery Promo Code
One of the many regions of the internet marketing tree is the social media marketing area.  This includes blogging, social platforms and networks, as well as shared content.  Social media is a great way to push your Munchery promo code.  YouTube has a great structure for video content and having links that you can embed.  Facebook does promote videos created on Facebook more than YouTube videos generally.
Analysis of your YouTube and other networks will determine which platform we can focus promotion of your Munchery promo code.  Facebook and YouTube analytics are simple to understand and will give us a deeper understanding of who your audience is.  So if you have purely organic followers, the data from audience engagement really does give a lot of cues as to what content is having the best response.  For social influencers, especially lifestyle vloggers, people don't just want to watch awesome content.  People want to try the same apps that you use and enjoy the same brands.
Munchery Competition – Comparisons for our Munchery Ambassador Program
Priced-out by the day, Crateful is a site that allows users to choose "chef-created and nutritionist-approved" meals based on food trends like the paleo diet.  Then they simply schedule what delivery days they want the meals.  The more days that you sign up at a time, the cheaper it is for the service.  Even at the discounted rate, $14.85 per meal seems like a lot.  But you pay a price for the convenience.
Flash-frozen meals from HomeBistro can be delivered anywhere in the nation.  This is great for people who just want to have to warm up their meals.  Also, HomeBistro also offers this service without the need to join a membership.  There is no recipe packs or kits with fresh food that can be delivered with HomeBistro.  So, some more expensive kits with several meals included and less variety.  
A company called HelloFresh is all about providing customers with "delicious recipes and pre-measured ingredients delivered straight" to the doorstep.  HelloFresh promotes meals at $10 a pop and provides boxes of fresh ingredients that go directly with recipes. https://d3hvwccx09j84u.cloudfront.net/web/image/w09-r01-f58c6b24.jpg?t=20170214134808
Social Influencer Affiliates
So, one thing to mention for our social influencers affiliates.   What would be even better is if you were promoting both of the competing brands.  You could give your audience promo codes to try.  They can then report back with their experience in the comments or your content.  The platforms that are for restaurant delivery are quite different because they aren't an end-to-end service.  Munchery get's their own food directly to customers.
The Future of Munchery
The assessment of start ups isn't that easy even though they haven't been around long.  Munchery seemed like a real winner with so much money from investors in their final round of funding.  But the recent press that I mentioned above, points to some problems within the internal operations of the company.  We will be very successful with our Munchery ambassador program and get thousands of new users.  This will obviously be very beneficial for the company and us as well.  PromoAffiliates is only as good as the social influencers and bloggers that promote our clients.  
So Munchery has the ability to scale in big cities.  If they company will duplicate its processes when expanding, there can be great growth potential.  In my research I've seen how they have bought some expensive cooking equipment in their hub kitchens.
We are very happy to have partnerships with great brands and Munchery is just one of these brands.  By working with our Munchery ambassador program, you will have a greater understanding of how to incorporate other promo codes on your own roster.  So it's a real win -win to promote with this type of affiliate program. You are giving the public a chance to try the new service for free or at a discount.  
Conclusion
In closing, thanks for reading all of this information for our Munchery ambassador program.  I hope it addressed all of your questions and concerns about how you can make money with your own Munchery promo code.  Be sure to contact aaron@promoaffiliates.com to sign up with this and other affiliate programs.  Our primary concern is getting the word out about our clients through digital marketing efforts.  Our success with social influencers and high traffic blogs has helped us to gain the partnership with some of the best brands.  
Also, your success is our success and we spend our time to support you.  Like I mentioned we have several campaigns that you can be a part of so don't hesitate to contact us.  If you know other social influencers or anyone who may be able to get activations for our programs, we have some exciting referral bonuses.  So every brand needs unique organic posts from influencers like you.  Work with affiliate programs so that you make your worth.  This is why we have the best programs. Our clients send us data that we pay out on the 16th of each month.