Shipt Affiliates Program for CPA Deals and Social Media Influencers
By Sean Turtle, COO PromoAffiliates  – January 29 , 2017 — 11:30 PM PDT
Welcome to our informative article on the Shipt affiliates program from PromoAffiliates. You found the only affiliates program that works with the top apps on the market. We are working with high traffic sites, digital marketers who work in the paid ad space, and social media influencers to promote big brands! Some social media influencers don't want to work with affiliate programs, but these payouts are amazing!
We've seen one influencer generate thousands of dollars for one YouTube video! Our Shipt affiliates program is one of the few programs where you can earn the most from your advertising efforts. Maximize your linking with big payouts for apps that are growing in popularity. There are other programs we have available in addition to the Shipt affiliates program so if you are qualified and interested contact Aaron@promoaffiliates.com for your unique promo codes and links.
At PromoAffiliates, we are dedicated to progress. We have helped several apps reach extremely high levels of traction and customer acquisition. This trust enables us to gain more clients to add to our roster. This is good for you and our Shipt affiliates program. Instead of paying you for customer purchases on products, we pay you for app activations. So every time someone uses your link and tries Shipt, you get paid. It's a lot easier for someone to commit to trying an app than buying a product. This is proven because our promos often let users try the app for free or with a discount. For Shipt specifically, the new user visits your unique link and signs up first, then they can use the app.
Big Discount
So with the Shipt affiliates program, potential customers are offered a big discount for their first delivery. You will have to specify what the amounts are when you sign up. Basically it's like they're getting free food just to try it. It's not easy to pass up free stuff! In addition, the payout for you the affiliates are pretty high. We also add up all of your activations for every calendar month so that we can pay out the first week of every month. Typically, we would like to pay you with PayPal.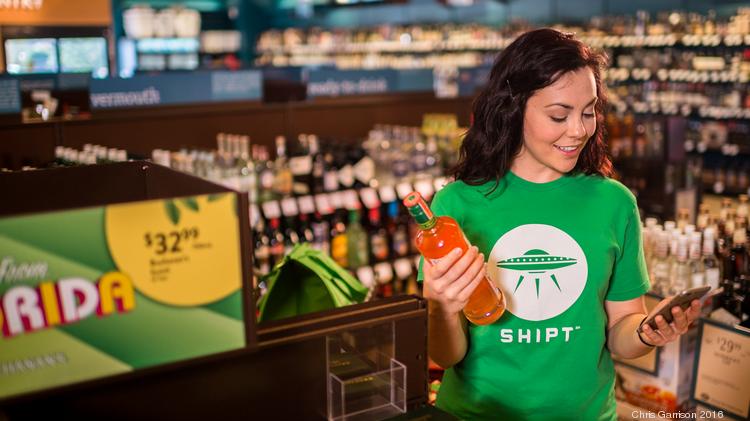 There are so many affiliate programs out there for you to investigate. It's completely acceptable to work with several affiliate programs at once. If you have a lot of followers on social media or a high traffic blog or website, it makes sense to have a big roster of affiliate deals.

PromoAffiliates Company Information
Our marketing efforts have landed us in several media outlets which I will go into later on in this post. Some of our press coverage has been featured in business insider, the Huffington Post, and TechCrunch.com. We pride ourselves on being true to our clients and our affiliates.
So this is why you should join our Shipt affiliates program asap! Our traffic affiliates are those who use paid ads, PPC, and other sources to find new users online. Our social media influencers are content creators that have complete creative freedom. There are some rules that our clients have regarding their logos but we can go over that when you sign up with Aaron.
Most of our blogger and PPC affiliates are pretty experienced and don't need much support. However, if you are a social media influencer with a minimum of 50,000 followers on YouTube or 100,000 followers on Instagram, we can coach you directly and help you succeed. For this you were probably work directly with me!
Sometimes even less than 50,000 followers can be pretty successful. We've seen that it's all about engagement. So if you were getting 10% of your total followers liking your Instagram post, that's a good sign. For high traffic sites, that's a whole other ball game of data analysis.
The ABC's of Making Money
I'm going to go into more detail about social media influencer marketing later in this post. But one thing to consider for Instagram specifically is that reposting things that are popular can be get a lot of new followers to your page. I'll get more into it but there are benefits of associating with people who are already popular in your genre. In a book called "The ABC's of Making Money", the authors talk about the idea that you were more likely to push yourself if you're associating with people who are already successful. It's really about who you know and who you surround yourself with whether online or in real life.
What is Shipt?
With everything being on demand, you can get anything delivered to wherever you are! Even people can be delivered. What do you think Uber is? With the Shipt affiliates program, you're promoting on-demand grocery delivery. The new user registers online with a link (we will give you) and signs up for the service. They can also use the app for ordering after signing up at your link.
There is a big network of what Shipt calls 'shoppers' who ensure that the delivery is purchased correctly and delivered to the right location. This can be a real time saver which in turn saves money. Everybody wants to save money. The prices fluctuate but it is a pretty low monthly rate. Shipt is in several US cities and working in partnership with several recognized grocery brands.
There is obviously a minimum order dollar amount and another minimum order to reach the free delivery feature.
This service eliminates the annoying shopping with carts and waiting in lines and all of that. Users can focus on their tasks at home or work while someone else does the shopping for you. The new users that you are promoting to for the Shipt affiliates program, can try the service risk-free when they use your link or code.  Risk-free is the way to be and that's what's great about the Shipt promo.
How Shipt Works
After registering as a member, the new user will download the app where they can order groceries. The app is available from in the Google play store or App Store. After the customer has the app you simply order your groceries and press check out. Major credit cards are accepted as well as PayPal, Apple Pay, and more.
All of the Shipt supply comes from local retailers, some farm sources, and known grocery brands. As a member of the Shipt affiliates program you are promoting good food and a great company. The best part about this service is that it's like the customer is buying the items from afar.
All of their choices and dietary needs are a match because they are the one picking the items. Being on-demand, the ordering is done same day. If the order is more than $35, there's no delivery fee! The main thing for the Shipt affiliates program is to push the benefits of the service.
Having partnerships with farms is so amazing because you know that the food is fresh.  One competitor that I discuss later in the post only uses farms and it must be wonderful to have organic and fresh partnerships.
How the Shipt Promotion Works
The Shipt affiliates program is set up for you to advertise this service to new users. These are the only people who can get the discount anyway. If you have a big social media following or high traffic website you will be able to spread this service without spending any of your own money.
In addition, the new user gets to try the service without spending any money either! It's a win win! As I always do, I suggest that you try the app as soon as you get your code or link. This is the best way to completely understand the service and get the experience of a new customer.

So the way that it works is that after signing up, your new referral will go to the app and start shopping. It's that simple! They get the link, and they start shopping. They sign up as a monthly service just like a lot of these types of things, so the user can choose to cancel to not get a recurring charge on their card.
But your main concern is to get people to try the app for their first time. The Shipt affiliates program is about customer acquisition and exposure, not maintenance. Shipt will do their best to keep the customers because we work so hard to get these users.
So you can see how all you need is access to the Internet to take a part of this promotion. Like a video I will link here, you will see a business professional ordering food before she leaves work. This way the food arrives shortly after she gets home. Get in the head of potential customers to better advertise for the Shipt affiliates program.
Benefits of Shipt Grocery Delivery
Brand new users to the service aren't usually aware that they can schedule deliveries for a future date. This is crazy cool! They are usually just so happy about the Shipt Promo they don't see it. Imagine being on vacation and ordering food to be delivered for the day you get back in town. Due to the perishable nature of most groceries, this service requires that people are home to except the order. It probably doesn't have to be the actual person who ordered it, as long as it's an adult. I couldn't see a Shipt shopper leaving a bunch of groceries with a little kid! Some 5 year old is thinking that they have to make dinner and makes a total mess of the kitchen. Good job Shipt shopper!
Additionally, using Shipt can help you live a healthier life if you are focusing on fresh food. Eating whole foods and dedicating your budget to groceries instead of eating out can be very beneficial. Many diet fads are out there for us to choose from. Everything from Paleo to Atkins to The newest one of eating alkaline food and water. The latter is under some scrutiny right now as the founder is facing jail time for practicing medicine without a license. As a sidenote, people shouldn't just contact one physician before they change their eating habits. They should contact several physicians, to gain perspective. Probably even physicians who practice different kinds of medicine. I'm talking about Chinese herbalists, acupuncture, Ayurvedic practitioners, everybody.

More Benefits
Another benefit of this service is that Shipt can handle different types of heating and cooling bags to keep things hot or cold. Users don't want their stuff all melted or whatever. This app is very beneficial for busy people. You can imagine how much you spend on gas going back-and-forth to the store and make simple calculations to see if it's worth it. It's one thing to know if you're saving money, it's a whole other ball game if you're saving time. Money can be made and traded but time is precious. These are the ideas you can convey to your social media followers or people who visit your site looking for deals. There are many ways to excel with the PromoAffiliates Shipt affiliates program.
Culture of Shipt Users
Being part of the Shipt affiliates program is pretty easy but the more you know the better off you are. Here, I want to tell you about what type of people use on-demand apps. Maybe you use Uber or Lyft and you kind of get it. The on-demand culture is made up of people that want things delivered in a hurry! I'm one of these people and we are all about convenience and precision. This goes hand-in-hand with saving time.
When I order an Uber, I get upset if I see the person driving the wrong way or if the person won't use Waze when I'm in the car. I'll go more into detail in the section where I talk about my experience with apps.
To really grab the attention of potential users, highlight some of the benefits and good things about the app. For example, Shipt has weekly deals and many things that the on-demand culture loves. Even things as simple as the layout of the app and that type of thing will help. It's important that you know exactly what the terms are so that you can highlight them confidently.
As I stated above, we are paying our affiliates for every activation that they get with your unique promo link.  An activation means that a new user actually signed up with your link in BEFORE they got their first grocery delivery.  A new user can download the app and input your code, but until they get their first delivery, it is not an activation.  
Shipt Demographics

This article that I'm linking is great! It's from the perspective of the shopper and explains a lot about their day today. The one thing that she goes into detail about is the demographics of Shipt. Shauna Gordon says that there are two prime demographics for Shipt: busy moms and the disabled. She says that it's amazing how the older people have really taken ahold of this opportunity to get the groceries delivered. Out of her first nine customers as a new Shipt shopper, 4 were disabled. This is beneficial information for the Shipt affiliates program because you know who to promote to. If you are a social media influencer and you have a lot of elderly people or busy moms as followers, then this could be a great app to promote.
Let's look at an example of a potential new user of the Shipt promo.  Imagine a business professional who wants to order grocery to be delivered. Well in a later section I will use an example and an actual ad from Shipt that shows this very thing.  Now imagine a busy Mom who has an ill baby.  Do you think that this Mom would want to wake her baby and take it to a grocery store to shop?  I don't thin so.  Shipt is the perfect solution for both of these examples.  What's great is that your participation in the Shipt affiliates program is going to help people like this!
Shipt in the News
Most of the press surrounding Shipt involves their expansion into more and more cities. It's big news when a grocery store partners with anyone. They are pretty protective over who they work with but it's a no-brainer to work with Shipt because they're delivering your product. One of the biggest news stories was featured in TechCrunch.com last year. It highlighted how the company raised $20 million in their funding round at the time. Food delivery is a very competitive market so the idea to team up with grocery stores was a good one! Now, as part of the Shipt affiliates program, you can capitalize on their success.

They are only in a few markets right now but their expansion plans are huge. Hopefully they will be in 100 new cities this year alone. But the thing about start ups is that you don't know how fast they're going to scale so it could be a lot more. The reason for his Shipt's success is that it's affordable. Affordability makes sense and dollars and cents. Florida Weekly contributor, Stephanie Davis, details how it fits into her life. She explains how she can't afford to hire anyone to clean her house or the fact that she shops at Ross 'Dress for Less', but can still afford to have a groceries delivered. By being in the Shipt affiliates program, you are helping people! That's the confidence you can have with this type of promo.
Stephanie Davis
What's great is that Stephanie details how she heard about the service for a friend. She wasn't scared off by the membership fee because it was reasonable. Her fascination continued when she noticed her friends continue to use with the app. I bring this up because as part of the Shipt affiliates program, you want to know your customer. Especially if you are a YouTube influencer, you will be making content that has to really hit home to your audience. Make a video series where you actually use Shipt.
Market Growth Potential
The potential for her Shipt to take over is really based on their partnership with grocery stores. There are grocery stores in every neighborhood in the United States and its purely up to the company's ability to scale. It's none of our business as part of the Shipt affiliates program but that hasn't stopped my mouth from running! I think that a company who got so much money put into them should have scaled beyond 200 cities right now. But I guess this program is going to help with that. Actually we are definitely going to help with that! Right!? If we can help the service spread and let more people know about the Shipt promo in the markets where they already have service, they can scale it.

There are so many articles online from local newspapers and even radio stations letting people know about the service. This is where our blogger affiliates come in. If you guys can write articles or post that link back to all of this press, it should be easy to get sign-ups. The promotion is exciting and the service is affordable. But remember, our main goal is to get new users to try it once! It's not that hard to give away something for free, but somebody's got to do it!
My Experience With Shipt
In order to always keep it real with my posts, I tried to add in a little of my own experience with these services. Being outside of the areas where Shipt is available, I've never had the opportunity to use the app. However, I've talk to a few dozen people who were interested in street team promotions. Sadly none of them worked out for a variety of reasons. This is why we are focusing on social media influencers and bloggers or PPC marketers. We found that people are searching grocery delivery promo code as a keyword thousands of times. So it makes more sense to get affiliates like you guys on board!
If Shipt was in my area, I would for sure use it to order groceries.  I'm on a health kick and trying to fight the urges to eat after nine o clock.  I know that sugar is the enemy but just tonight I had some chocolate!  I'm not talking about some healthy sugar-free crap.  I'm talking about some decadent Lindt classic Swiss recipe stuff.  It was giving to me along with a $25 Amazon girt card for being the top volunteer for the month at my church.
It caught me by surprise when they called me on stage during a special team night where all the volunteers get together.  There's like 300 of us and people were very supportive and continue to congratulate me on this at church!  Either way, I don't want to finish the chocolate.  Maybe I'll just give the rest to a homeless guy or something.
Shipt Competition
As I stated earlier in the post, the competition for food delivery in general is extremely tough. But specifically for grocery delivery, it's a little easier. A quick Google search shows that most grocery stores don't have their own in-house delivery service. Aside from Vons or Whole Foods, there's not many choices without having to go to the store yourself. It would make sense for former grocery store employees to be shopper for Shipt however.
Instacart
A direct rival to Shipt is the grocery delivery platform called Instacart. They even have partnerships with some of the same grocery stores as Shipt. Personally I think they have a better name but I'm not in the business of naming these companies. I'm in the business of generating interest for our affiliate programs.
Instacart has more cities so far so Shipt has some work cut out for them. Like I said earlier, it's up to them to figure out how to scale up. This is why it's important that our program works! The Instacart brand has some great information about dietary trends, popular brands, and more.
Competition is important for companies to have the necessity to stay ahead of the game and to push them into the forefront of their industry.  I for one love a little competition.  It seems to make us try harder to push ourselves and do our best.  It's the same for companies.  Shipt is operating in a very competitive market but they can still partner with so many grocery stores in so many areas. If our program can do it's part to help spread the word about the service than we will help this expansion into more cities.
Yummy.com
Another competitor that I want to mention is Yummy who is actually a grocery store too. They are only in California as far as I know but this should be something to consider as the rank really high on Google search results. All of our PPC and blogger affiliates should analyze their approach to the ad space. I literally searched grocery delivery Florida and they popped up on Google.
The Yummy store that's in my neighborhood has a dumpster that some friends and I would raid a few years ago.  I used to work with this group to prepare food and we would drive it all down to the slums of downtown Los Angeles.  On the way, we would stop at the Yummy dumpster and grab what we could.  Mainly bread was the norm and it was still pretty soft.
I would be embarrassed but who cares right?  I was doing good and feeding people food that would otherwise be thrown away.
Blue Apron
A big competitor in this market is Blue Apron who is in a lot of states already. They have a great model where they can repackage ingredients for you. They are attempting to make food more sustainable and help people cook great meals from scratch. It seems that the model of Blue Apron is to partner with farmers and not grocery stores. So far they are partnered with over 150 farms. It's an exciting model but harder to scale and probably a logistics nightmare. But at least they're pushing sustainable farming and really healthy food. This may be an avenue that other food delivery platforms will consider in the future.

Lastly, there are several small operations that do grocery delivery but none that are trying to use an app and technology to get the products to customers. In another post I write about how some food delivery platforms are testing robots and drones to deliver food. Shipt is leveraging products that already exist and are already available to the public. This is huge because this type of model has the ability to grow big.
Shipt in Phoenix, Arizona – Shipt Affiliates Program
The Shipt promo code is doing big things in Phoenix, Arizona. This is great for the Shipt affiliates program as it expands more and more west. You can see a video link in this section from ABC channel 15, in Arizona. The Shipt service works with Fry's grocery store to provide customers with convenient delivery. Phoenix is a big delivery area and you can see from this map that it covers a lot of local neighborhoods. This is typical for the Shipt service and it may be helpful to include maps on your blogs or even your social media. Let potential users know if their area is covered. You can get the maps from Shipt.com.
In your marketing efforts, the Shipt promo should be discussed in terms of the city that is in. This is primarily because Shipt is only in 36 cities or so. Once it's in more markets, you'll be able to refer to it in general terms. Social media marketing should focus on regional campaigns like tagging popular destinations in cities where Shipt is available.
Shipt in Jacksonville, Florida
In these posts, I often like to refer to reviews that people have posted of their experience using the service. Analysis of reviews will help you understand potential users. For the yelp.com reviews for Shipt in Jacksonville, I was shocked to see some really long reviews.  Who jumps on Yelp and writes an essay?  Stick to the point on reviews or else Yelp is going to limit the amount of characters we can put on there.
They were only a few since Shipt doesn't have a physical location and everything. I found a frustrated customer who went on and on about not being able to get a specific item they wanted which was Nestle chocolate chips. I can see how this may be frustrating but services like these are new and there are thousands of options in every grocery store. The person mentions that they did not choose to list a 'special request' and instead spent a lot of time searching. I don't think that the customer is always right and they could have settled for a similar product.

This is important because as a Shipt promo affiliate you may want to mention this type of thing. You can let potential users know that there is a special request function that they can use if they're not finding the items that they want right away. This goes back to me explaining that it's important to try the services that you were promoting if they are available in your area. If not you can do a little bit more research like this to find out all the details of the service. I hope this part was some good information for you to consider.
Blogger and PPC Affiliates
I'm well aware of what bloggers do to generate traffic to their sites. I'm not super familiar with the paid ad space. At any rate, we want our PPC or CPA affiliates to be experienced and what they're doing. We have people on our team that will determine whether your experience will benefit our campaigns and help you to get income. Technically, the bulk of our clients on our roster are functioning CPA deals. Few of them are actually PPC.
But we use these terms to bring in that type of mindset and experience. Digital marketing is a multibillion dollar industry and the best way to monetize a website. This I do know for sure! But the actual nuts and bolts of it are far too complicated to go into detail in an article like this. If you are new and want to get into it, do your research because there is a lot of information online.
A Note for Influencer Affiliates – Shipt Affiliates Program
Regarding the potential income an influencer can make doesn't directly rely on the amount of followers they have. That's the beauty of the Shipt affiliates program that we are inviting you to join. What's more important is the amount of engagement the followers you do have provided. True, your income is correlated to the amount of followers but is not the only determining factor. This part of our Shipt affiliates program and other affiliate programs I know way more about. I've been studying this for the last eight months and still felt like I came on really late. But I am knowledgeable enough to coach influencers.

One thing I don't mention much for influencers is the concept of newsletters. In the e-book Instasecrets, it says that if you're giving away information or news that people really want, you can collect emails with a form link and have people sign up for the newsletter. This way they are offering their information to you knowing that they will hear from you. Use Mailchimp and send out your newsletters. Brief people on whatever topic you want to talk about and include promo codes and looks like the shipping promo. Surprisingly, email works for most as the number one method of selling things and getting your message across. But we aren't in the business of selling things so it's all good.
Shipt has over 130,000 likes on Facebook and this can be a lesson to our Shipt influencers working with our Shipt affiliates program.  You can benefit from this success by linking using the appropriate tags.  Another tactic is to model their success.  It seems the are basically just getting popular on Facebook because of their quality pictures.  Content is king online as people flock to webpages and posts with beauty and clarity.
Shipt Safety
Just like many services where you're dealing with people that are delivering to your home, you want to make sure you're taking safety into consideration. We always suggest safety when promoting the Shipt affiliates program. While you are promoting Shipt make sure to mention something a little bit about this if you feel necessary. For example there can be ways to text the person who is delivering your food and they should have a uniform so you know that they are an employee of Shipt.

On the Shipt website you can chat live with a representative if you've any questions. This can help those of our affiliates who are in an area where they can't try the app personally.
I often chatted with representatives when we first started promoting the company to understand some specifics. Shipt isn't available in Los Angeles so I had to do my research and find out details on my own.
There is no interactive map where you can track your drivers whereabouts. However, The shopper will text or call to let you know when they're at the store and also if they need help with your order.
This will give you a point of contact and a name. You can also ask what kind of car they have so you can expect it when they arrive at your home. These are some of the safety measures that you can promote that other delivery services may not have.