UberEATS Affiliates Program for YouTube Influencers & PPC Blogs
By Sean Turtle, COO PromoAffiliates  – January 23 , 2017 — 3:30 PM PDT  
  When it comes to affiliate deals or CPA deals, the PromoAffiliates team is excited about the UberEATS affiliates program!  One of the reasons is because we have had so much such with our Uber campaigns.  Also, as UberEATS spreads to new markets, people will be willing to try it because of the popularity of Uber.  There is more about this in the news sections.  We are inviting members to our UberEATS affiliates program who are experienced with digital marketing or have strong engagement with social media platforms.  So if you work with PPC or have a popular site or blog, this opportunity will bring you epic success. Also, the paid ads space has so much room for growth!
  We have affiliates with popular blogs that promote this and other campaigns.  Now it's your turn and we want to work with you!  If you are a social media influencer with a lot of followers, you can earn for promoting UberEATS and other services.  Email Aaron@promoaffiliates.com to sign up and get your unique code today!  We will need a link to your content.  Send us a link to your site or social media for consideration.
  The amount of epic success we have see with our affiliates goes beyond the digital marketing or influencers.  We have also seen some of our street affiliates dominate and generate thousands of new users for our clients.  I'm not going to go into too much detail here on what tactics our street teams have used.  What I can tell you is that there are several ways to promote like at events, schools, and wherever the most people are at a location.  Later on in this post I will go into detail about tactics for influencers and bloggers.  
Who We Are – PromoAffiliates
  PromoAffiliates started as a marketing arm of different start ups.  Techcrunch spread the great news of our initial successes of promoting for Uber and Lyft.  In a surge, PromoAffiliates was responsible for acquiring 30,000 new users for Lyft in 30 days!  With that being said, we are continuing this success with a number of brands.  Also, we use the model of giving away something for free or a discount to users for their first time.  
  So if you qualify to work on our UberEATS campaign, chances are that you can adopt other brands from our roster.  This is a fantastic way to offer your audience mulitiple offers.  This is actually the ideal situation for us as well.  Our bottom line mission is to get our clients new users.  This post is going to detail all sorts of information but your focus in on getting NEW users to try the client.  
  We are basically a B2B that promotes to potential C's (customers).  So our concern is customer acquisition.  We do care that we represent the brand appropriately but it's not our job to maintain these new users.  The companies themselves are concerned with keep customers one they start to use the service.  
How the Promotion Works with the UberEATS Affiliates Program
  When you have your unique code, you will instruct your audience to use it in the promotions section of the app.  This is where I tell you to actually try these promotions before you offer them.  If you or some friends try the promotion, you will fully understand all of the ins and outs.  
  For UberEATS, the promotions section is easy to find.  There is an icon in the app shaped like a person.  This where you want to go to input the code for the promotion.  So it's pretty important to instruct your audience appropriately.  Like I said above, this and most of our promotions are about a discount or free trial for the first time.  With UberEATS and other delivery startups, the model is typically a discount on the first delivery of a certain amount.  Sometimes, like with our Postmates promotion, the delivery fee is just waived for the first order.  
More Info…
  So the UberEATS app works 24/7 and there are drivers online but not a lot of restaurants are open late.  We suggest tipping the delivery drivers but it's up to you what info you think will be good for your audience. The promotions that we work with are subject to change to stay up to date on them.  Luckily for our affiliates, people are constantly searching for promo codes online.  The UberEATS app is really easy to use so potential users will be able to catch on.  
  This page does a poor job of explaining things and the site is ranking really high on Google search results.  If you are doing paid ads then some of this information is irrelevant.  Send us a sample of your paid ads campaigns where you have found success.  We would love to see what is working for you and maybe we can help.  
What is UberEATS All About Anyway?
  To really kill it with your efforts on social media, with paid ads, or with your blog, you need to know what UberEATS is all about.  The UberEATS affiliates program is really just getting your unique promo code out there to the masses.  The app is getting great ratings in the Google Play store and the App store.  Uber Technologies took their time to get this food delivery model off the ground.  
  Initially, the app wasn't delivering from restaurants, at least not in Los Angeles.  The drivers would have a certain amount of breakfast or dinner meals in a hot bag in their car.  This actually probably helped launch before having partnerships with eateries.  
https://www.wired.com/2015/12/ubereats-is-ubers-first-app-thats-not-about-rides/
Like Uber?
  Because the UberEATS app is similar to Uber, ordering food is essentially the same as ordering as ordering a ride.  An article from Wired.com says that the order goes to your door.  Maybe this is different by region.  The article is about the app's expansion to Toronto.  As far as I know, UberEATS has always been a curbside service.  This article does back up my theory that when UberEATS launches a new market, they use the 'Instant Delivery' model where there isn't partnerships with restaurants.
Benefits of UberEATS
  On-demand food delivery has many benefits!  Obviously, it's a luxury but let's look deeper.  In the next section I'll go into the culture and lifestyle of UberEATS.  For now, let's look at the basic benefits.  For one, not every restaurant has their own delivery drivers.  When working with the UberEATS affiliates program, highlight how many options potential user will have.  Even if it's a new market and the user only has the instant meals, there is still some variety.  
It's best with paid ads to explain that the service varies from city to city.  
  Unlike some ordering experiences, UberEATS has streamlined the process and estimates that most deliveries with take 30 minutes from start to finish.  I love how Uber Technologies thinks that everyone takes the same time to order.  But I guess they mean the average order will take 30 minutes.  One great thing about this app is that you can track your order just like when you request and Uber ride.  
  Lastly, you can trust the secure, cashless payment system.  When you order for delivery, you pay through the app of website.  This adds a certain sense of community to the position.  With UberEATS, the app allows both cyclists and drivers to deliver for them.  This is beneficial in a more general sense in that people are able to get employment.  Job creation is always a good thing.  
UberEATS Affiliate Program – Great Content Matters
  So let me talk about PPC affiliates ( https://blog.kissmetrics.com/paid-internet-advertising/ )ads first in this section.  You will have review the terms with aaron@promoaffiliates when you receive your unique promo code.  CPA deals are great for marketers who purchase paid ads.  If you are finding success with your current platform, I am not suggesting changing things up.  So we do not have our own ad platform https://www.entrepreneur.com/article/233420 like other companies.  We want to work with people who are already finding success with this type of digital advertising and just want to add more brands and services to their roster.  We have multiple campaigns so there should be something relevant for your audience.  
  Regarding bloggers with popular sites, this is similar to the paid ads folks I was talking about above.  Whether you use Adwords or something, your goal is to get traffic to your site right?  Well, we are looking for people who already have a lot of traffic and want to increase their cash flow by adding more deals.  For example, if you are with an affiliate program for something tech related, it makes total sense (and dollars) to add some of our clients to your site.  
Influencers
  My favorite affiliates for our programs are influencers.  We have worked with influencers with 20,000 followers and some with millions!  As long as you have engagement, we want to work with you.  So if you are big in Florida and have only 10,000 followers, contact us so we can make the call to forecast your success.  We actually have an app called Shipt we are marketing that is gaining steam in Florida for Grocery delivery.  So these campaigns have a regional element because apps like UberEATS aren't in every market.
UberEATS Culture Explained
  If you were living under a rock for the last 5 years, you know nothing about how popular the on-demand culture has become.  I'm not getting any younger and I remember when the only thing that was delivered was pizza.  I lived in the suburbs East of Los Angeles so I wasn't even that aware of Chinese or Thai food delivery that is hot in the city where I live now.  What I'm getting at is that everything can be delivered these days.  You can even deliver yourself which is essentially what Uber and Lyft are.  Uber and Lyft deliver people from place to place!  What's funny is that people use Uber to deliver packages and random stuff.  It makes sense because it saves time and often money.
  So as more and more people are getting into this culture, the better it is for members of the UberEATS affiliates program.  We are inviting you to capitalize on this trend!  Our analysis shows that people are searching for promo codes for on-demand apps like thousands of times per month.  
Some Press
  Ian McNulty (@ianmcnultynola), of the New Orleans Advocate says that there are more than 100 New Orleans restaurants signed up with UberEATS!  For a small delivery fee of $4.99 (which is waived in some cities for the first week), users have access to many restaurants who probably wouldn't otherwise have delivery as an option. He says that there are other companies in the region.  These third-party, on-demand services are popular among millennials and and boomers alike.  
UberEATS Demographics
Search Traffic
  So who are you going to market too?  Because you are advertising UberEATS online, I want to show you how easy it is to find information of the people who go to UberEATS.com.  You can see from the images that I'm using.  More females order from the website and it seems that people who went to college rank higher.  Also, you can see that more users order or access the site from their place of employment.  This is what I'm going to talk about later in the post.  People order food delivery from work.  
  Because your role in the UberEATS affiliates program is to get people to try the app or service with your promo code for their first time, you should know your audience.  If you are an influencer that has never pushed a service like this, you can contact me at sean@promoaffiliates.com for help after you sign up with Aaron.  I haven't just posted a lot of articles on the topic here on PromoAffiliates.com, I've studied theory from Gary V and I've read hundreds of articles.  
UberEATS in the NEWS
http://economictimes.indiatimes.com/small-biz/startups/uber-to-launch-food-delivery-app-ubereats-in-india/articleshow/56733784.cms
http://indianexpress.com/article/technology/social/ubereats-a-standalone-food-delivery-app-to-launch-in-india-soon-4487941/
http://www.hindustantimes.com/business-news/ubereats-to-deliver-food-home-zomato-swiggy-might-feel-the-heat/story-xqrwgoghPzHxUpBq34GPrI.html
  As with most startups, Uber Technologies uses independent contractors.  The same is going to be true with UberEATS.  The news of the food delivery service going to India this year just now toppled the previous bad news for the app.  Earlier this year, an arguably disgruntled UberEATS driver fired BB's at some pizza joint in Tampa. http://www.fox13news.com/news/local-news/229980380-story
https://munchies.vice.com/en/articles/a-pissed-off-uber-eats-driver-shot-up-a-pizza-parlor-with-a-bb-gun
Bad Press
  Because all press is good press, I bring up these two news links for good reason.  We have seen bad press propel our affiliates' promo codes to epic success.  But you have to use discretion.  I tend to suggest that our Blogger affiliates and PPC/Traffic affiliates make sure they fully understand the terms set by Aaron when signing up for the UberEATS or any campaign for that matter.  
  For example, most of the brands will not allow the use of their logo in paid ads.  Our affiliates will say "Free Food delivery with this link" or something.  Then the potential new user with be lead to another page where the promotions are. As far as press, the articles make good outbound links.  This is because you can see when they were put up and new articles trend higher than old news most of the time.  
  With social influencers, you can really go nuts!  Typically you should use caution with tweets but we are more concerned with working with people who are big on YouTube, Instagram, and maybe SnapChat.  It's rare and hard to track engagement on Snap but we did have a guy who killed it with some promotions on Snap.
More UberEATS News…
https://smallbiztrends.com/2017/01/mcdonalds-and-ubereats.html
   Shipt grocery delivery is big in Florida!  They are one of our clients so we should know.  Sadly, they are about to face even more competition.  According to a SmallBizTrends.com report by Nash Riggins, McDonald's is jumpin into the "third-party delivery revolution!"  What?! Mickey Deez can be delivered now?  I call it Dickey Mees because obviously I'm a total word nerd!  Anyway, McDonald's hasn't really adopted and technological advancements in years.  I don't consider faceless kiosks an advancement since Japan had been rocking them for a long time.
  Before the partnership with Uber Technologies and McDonald's (NYSE:MCD) rolls out in 200 markets, Tampa, Miami, and Orlando are taking part in a trail.  The plans for the partnership will be in as many as 25,000 McDonald's restaurants across the globe by 2018!  Join our UberEATS affiliates program today!
Personal Experiences With UberEATS
  This has become my favorite part of these posts.  I get to tell you about my own experiences with these brands and services.  Before I get into it, I want to stress that when you sign up for our UberEATS affiliates program, try it for yourself!  It's crucial to getting into the minds of potential users to try it out.  This is one of the best ways to convey a call to action, a sense of urgency.  Look, you're giving away a discount and sometimes free trials!  It's not easy but somebody has to do it!
  For influencers, you can use the opportunity to try the services as an opportunity to film or photo the services.  The best influencers give the audience a genuine experience.  You can screen capture your computer or smart device to show how to use the service, input your code, etc.  Then show them the driver when you pick up the food curbside!  You may want to get them to sign a waiver if you're that big on YouTube but that's on you!
I had to try it!
  So when I heard that Uber had started to deliver food, this was when the option was within the Uber app itself.  It was a great decision to make a separate app and website.  It was hard to see the little knife and fork icon.  My main thing at the time was just trying every food delivery out here in Los Angeles to get my free try!
Friend Referrals
 A good friend of mine was also into getting something for nothing and wanted to use our codes to try UberEATS.  We were at a friend's house and the convenience of this service was required.  This is important to know because the friend referral is different that that we are inviting you to do as an affiliate.  Friend referrals for regular users only gain them credits.  Don't confuse the unique code you get from aaron@promoaffiliates.com with your personal UberEATS code.
  So we were chillin as people do in Los Angeles on warm summer nights.  The lady of the manor had prepared some snacks but they were running low upon our arrival.  I take my snacking very seriously as you can see on my own Instagram @turtkitch.   So we decided to order some UberEATS.  At this time is was only instant delivery so there was no partnerships with restaurants.  The food arrived so fast we could hardly get to the curb in time.  
  Just like with Uber, you can call and text your UberEATS driver and track their trip on the map.  It was no sweat to get to our driver and we were able to keep the chillin going long into the wee hours.  Join our UberEATS affiliates program today!
I Was an Uber Driver!
  For 10 months in 2015, I was a rideshare driver!  During this time, I also dabbled in food delivery for a variety of companies.  It seemed that there were benefits to delivering food versus humans.  Delivering (or giving rides to) humans was fun, don't get me wrong.  I would meet young ladies which is crucial for a young man.  But the appeal of delivering food was that I wouldn't have to have the inside of my car spotless.  Also, I could listen to the craziest music without the concern for another person's sanity.
  Even the money was comparable.  I could work the system and be working on more than one delivery at a time.  Also, when you're driving rideshare, it becomes a challenge to locate restrooms and water.  When popping in and out of restaurants, I could get water, use the restroom, and flirt with the help.  It was seemingly a win win situation.  When I heard about UberEATS, I wasn't eager to sign up because there was only instant delivery at the time.  
 Because I am a freegan, the idea of keeping any leftover food from my runs was appealing though!  Also, instant delivery was only curbside so it was a lot less effort and risk of leaving my car parked illegally.  These are the details to be considering when promoting.  I suggest keeping is simple and vague.  
Instant Delivery
When this was new, all there was here for delivery was Instant Delivery.  This meant that there was not partnerships with restaurants.  Like I mentioned above, it seems that when UberEATS is expanding to new markets, they only have the instant delivery option available.  It's not bad really and there is a great food but not a big selection.  Nothing like the Munchery app which has a huge selection.  
  This is important to understand.  I didn't read the site and app clearly so it was new to me that there were certain times when I could order.  It was something like breakfast and dinner only.  But it was delivered very fast and that's something that other delivery services couldn't touch.  I don't remember what I got but it was hot and delicious!
UberEATS Competition – Food Delivery
  Because we market a variety of apps, we actually promote some of UberEATS' competition!  It's not a conflict of interest because there are so many ways we market and the internet is the wild wild west for advertising.  But seriously, you should run your ideas by us to make sure you understand the rules that our clients ask us to adhere to.  Know what the current promotion is with your code.
  With the growing on-demand economy, there are more and more food delivery services on the scene.  According to Sierra Tishgart from GrubStreet.com, UberEATS has a long road ahead if the service wants to stand out from the pack of other food delivery services in New York. One argument is that the amount of restaurant choices can be overwhelming. Also, I hadn't considered that some eateries haven't optimized their menu for takeout.  
  http://www.grubstreet.com/2016/03/ubereats-app-strong-competitor.html
Competition
  Either way, some direct competitors like Caviar, Postmates, and Seamless have charges that UberEATS has gone back and forth on.  This is more evidence that it is crucial to be up to date on the promotions that your are advertising.  In the least, be vague like I am with this article.  I haven't told you what your unique promo code will give new users or what you will be paid!  You have to sign up with our front man, aaron@promoaffiliates.com.
 Lastly, since Uber Technologies is set on global dominance, the promotions and competitors vary from market to market.  However, we have seen that Uber promos are pretty consistent nation-wide! Join our UberEATS affiliates program today!
DoorDash, Delivery.com : UberEATS Competition
  According to BusinessInsider.com contributors, Jillian D'onfro and Biz Carson (what kind of name is Biz), DoorDash only has 2% of the delivery order market share.  This is why we are focused on our big dog clients.  Their domination is better for our business. Shockingly, Domino's and Pizza hut are holding on to a fat chunk of the market share!  Despite being old dogs in a new kennel, they've kept up the hope.
  The article talks about how San Francisco is a great testing ground for delivery companies. They decided to try the top 7 services and here's what they found out. They found that Eat24 was the only app to let the authors sign up for a guest account.  All of the other services required the whole sign up rigamarole.  I think that this is negligible because there's a level of comfort that comes from putting your information in once and calling it a day until the next time you order.
UberEATS in the UK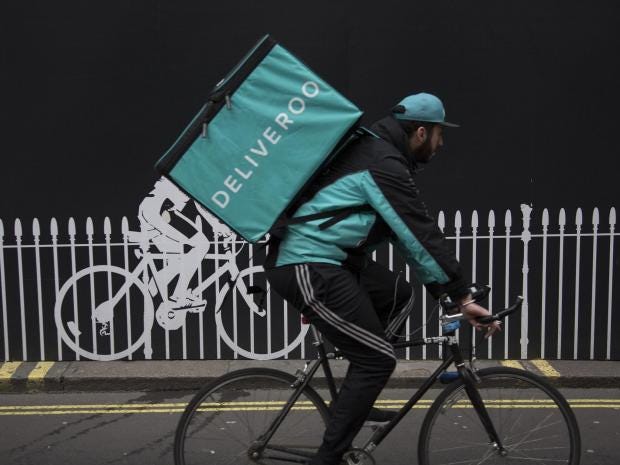 http://www.independent.co.uk/news/business/news/uber-planning-to-bring-deliveroo-competitor-ubereats-food-delivery-service-to-uk-a7063986.html
  So it's pretty inevitable for on-demand companies to scale up when they've seen success in almost all markets where they operate.  This was no different for UberEATS when they went to London.  Uber had some serious criticism when going into some markets from traditional taxi services. London was a hotbed of drama where riots from taxi drivers ensued.  
  Buzzfeed reported that there were jobs advertisements for a "restaurant partnerships manager" but UberEATS never officially confirmed that this was the case.  Time will only tell how far reaching UberEATS will go into the global food delivery sector. The more the merrier!  Especially for our UberEATS affiliates programs sake.  With digital advertising, it is best to work with the biggest and most spread out companies.  This is so that no matter where your traffic or audience is from, you can offer them something.
The Future of UberEATS
 If the articles above about UberEATS launching in the Indian market are any indication, UberEATS is going to be around for a long time.  Even crazier was the news linked above about the partnership with McDonald's.  All I can imagine is global domination!  With the exception of the China market of course.  It seems extremely tough for tech startups to succeed in China for reasons I won't attempt to go into here in this post.  If you want to send me some money to make a post analyzing this trend of tech failures, I could take a stab at it.  
   India wasn't the only place where UberEATS launched this month.  Bangkokians can now get UberEATS delivery as well as the Japanese.  Japan saw the launch last September and I've yet to hear bad things!  All of this expansion and partnerships usually means good things for a company.  
http://bangkok.coconuts.co/2017/01/17/ubereats-launches-bangkok-provides-another-way-get-food-when-youre-lazy
Also, the well-funded power house has started to cause other delivery startups like Favor to crumble under the weight of the competition.  The delivery market in general is a harsh place as technology allows many to expand and scale with ease.  Favor wasn't a small startup either.  We used to promote for them and they had control of Canada's largest market.  Also, they raised $16.9 million since founding the company in 2011.  Join our UberEATS affiliates program today!
https://www.japantoday.com/category/food/view/ubers-culinary-spinoff-comes-to-tokyo-but-in-a-different-way
PromoAffiliates Press
  I found some random website with our info translated in Mandarin.  http://36kr.com/p/5041287.html I just thought it was cool!  Anyway, we have had our share of successes but with every battle won, we are only more ready for bigger and more significant battles.  We see our next battle as signing up the best PPC affiliates for our top clients.  Another milestone will be to partner with some relevant social influencers.  Our boy Dan Blacharski, contributor for Entrpreneur.com and author of 'Dotcloud Boom', dropped a solid article on some of our efforts.  He discusses the necessity of partnering with influencers who have such a command of our attention.  
  Dan couldn't be more right about this.  This is why we are encouraging influencers to sign up for some of our affiliate programs instead of only working with flat rates.  The only benefit of getting a flat rate is that you can get your payment faster.  Look, I would rather have $15,000 over a 3 month period that $1500 tomorrow.  This is a no-brainer. Everyone who is watching your YouTube of following your Instagram feed is familiar with promo codes.  But they are even more familiar with trying something for free or at a discount.  
  Our clients are well aware that TV ads only go so far and they're not about to drop millions on an archaic ad platform like TV.  Maybe when they are at Uber level status will they want to push the brand like that.  For now, they get that there is a high level of engagement we have with our favorite social media people.  
More PromoAffiliates Press…
 If you can't write the news, you gotta make the news.  Tech.co's Steve Young (@stevepyoung), gave us a good blurb back in August of last year.   He talked about us briefly and highlighted a prank video from an influencer we worked with.  This influencer is a cool guy with a huge following.  When we approached him and his team about the idea, they were already in the works of the concept and about to head to Dubai. I had to stay up until 3am to catch his on a What's app call. It was totally worth it!
   Coby Persin is a known prankster and created some really fun videos for YouTube.  He actually pranked some people in Dubai with a Bugati super car!  He pulled up to give them their Uber ride and many were so shocked.  We prefer to work with lifestyle bloggers and lifestyle influencers but sometimes, we are open to try other genres to see if anything great happens!
Video!
Other genres that will obviously work are the ones that engage their audiences the most. YouTubers love to hold contests and these are great for engagement.  I'm sure if word were to spread about someone giving away a Tesla car or something, the contest would be huge.  This is the lottery theory.  Why is it that millions of Americans play the lottery day after day, year after year?  Everyone knows that your chances of winning the lottery are less than getting hit in the face with a shark fart.  I've heard that shark farts are the deadliest silent but deadlies in the animal kingdom.  I bet they're only silent because of the seawater.
Special Alert for Influencers
  So I have studied this trend a lot and have written numerous small articles on the subject.  More importantly, I have worked with some successful influencers for our campaigns.  Once you sign up with aaron@promoaffilates.com, he may give me the green light to coach you and we will analyze your engagement levels.  For starters, I'm on the forefront of marketing a great ebook called InstaSecrets.  With this short manual, I've been able to shed light on the Instagram algorithm.  
  According to the author, content trends on Instagram have a science behind them of how they rise to the top.  The Search & Explore pages of the app have a way of operation and when you learn to work with this system, you will gain organic followers.  These followers, or tribe, is your audience and there is a level of consistency in the interactions you have with these people.  Only consistency and timing will help you organic tribe grow.  
  "Understanding what makes our efforts [work] is a science not a lottery."  I love this statement and it's opposite of how most of us think.  With so many users, we feel like Instagram is a lottery, a random collection of people.  But the truth is, everyone browsing the app has specific tastes and once you see the trends on your own account, you will be able to capitalize on this.  
Conclusion
  So now you have a ton of information on our UberEATS affiliates program.  If you still have any questions, please email aaron@promoaffiliates.com.  We encourage you to work with us and hopefully I was able to give you enough perspective on what type of success you can have working with us.  PPC marketers are familiar with affiliate deal and understand how powerful digital marketing can be.  
 Typically, influencers are used to getting a flat rate but there is so much more to be made with affiliate deals.  In an example I used above, please don't request or accept 10% of what you could be earning by requesting a flat rate.  We have consistently seen influencers request an amount that we are certain could be significantly higher if the were to go with the affiliates programs option.  
  This trend of affiliate marketing is being used by so many companies across all sectors.  Products, services, and everything is based on an affiliate program and there's good reason.  Direct and indirect word of mouth is extremely powerful and that's what all of this boils down to.  True not everyone is going to be into a promo code, but the ones that are into it far outweigh them.  Join our UberEATS affiliates program today!
Feedback
Your feedback is important to us to add a rating below.  If you're considering not giving us 5 stars, sympathize with our efforts.  Thank you.  
(No Ratings Yet)

Loading...